LOCAL SKIP HIRE SERVICES IN SALFORD AND ACROSS GREATER MANCHESTER
Look no further than Skip Co MCR for all your waste disposal needs.
Specialising in skip hire across Greater Manchester, we have a wide range of skips for hire in Salford and the surrounding areas, covering all your requirements.
Our friendly team are available to offer advice or provide a quick and free quotation. Once you accept, we will arrange a date and time for the skip to be delivered. All skips are offered as a 7-day hire period unless otherwise arranged.
2 YARD MINI (HOUSEHOLD SKIP)
Suitable for small clearances and garden work, this is our most common skip for household use. This compact skip will fit in small spaces but is not suitable for large furniture or doors.
♦ Capacity – 1.5 – 2.3
♦ Height – 0.78 m
♦ Length – 1.22 m
♦ Width – 1.30 m
4YARD MIDI (IDEAL FOR KITCHEN AND BATHROOM RENOVATION)
Ideal for disposing of furniture, this skip is suitable for more DIY jobs and household clearances.
♦ Capacity – 3.2 m3
♦ Height – 0.78 m
♦ Length – 1.83 m
♦ Width – 1.75 m
8 YARD MIXI (BUILDERS' SKIP)
Frequently used for large excavation work, this skip is most popular for use by builders in construction work.)
♦ Capacity – 6
♦ Height – 3.66 m
♦ Length – 2.66 m
♦ Width – 1.8 m
16 YARD SKIP
Built for larger capacity, this skip is mainly used on construction for light builders' waste.
3.5 TONNE WAGON
Suitable for tight access jobs.
Materials We Don't Accept
♦  Asbestos
♦  Gas Bottles
♦  Food Waste
♦  Any Hazardous Material or Packaging from Such Material
♦  All Liquids, including:
♦  Solvents
♦  Creosote
♦  Fridges or Freezers
♦  Tyres
♦  Tantalised Timber
♦  OIL, PETROL, AND DIESEL
♦  Paints
♦  Corrosives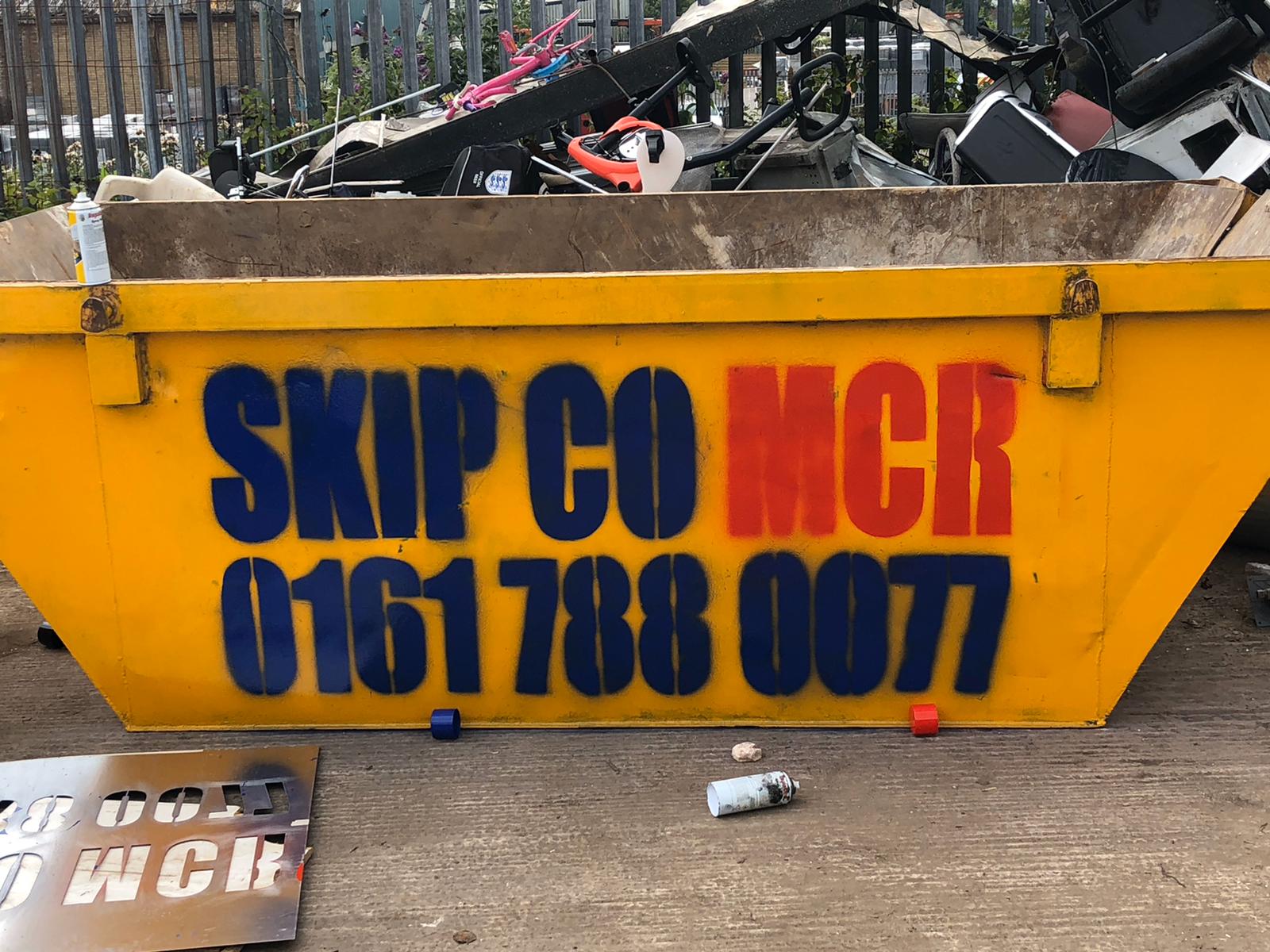 Skip Delivery
After your skip is collected, we take it back to our waste transfer station to be tipped. Trained recycling operatives then remove any recyclable materials before delivering it to the appropriate recycling depot to be processed. Rest assured that our responsible staff are both friendly and eco-friendly in all our services.
ROAD PERMIT RATES
If your skip is going to be placed on the road, we will acquire a permit for you. Different councils have different rates and terms for road permits, including:
♦
  Salford City Council – £15.00 for 28 Days (No VAT)
♦
  Trafford Council – £35.50 for 14 Days
♦
  Manchester Council – £28.00 for 7 Days
♦
  Bury Council – £32.00 for 14 Days
♦
  Stockport Council – £30.00 per 7 Days
♦
  Skips Will Not Be Placed on Grassed Areas Where the Vehicle Has to Drive or Place Legs onto Grass
♦
  Vehicles Can Only Access Your Site Over A Drop Kerb (Not a Raised Kerb)
♦
  Vehicles Are Not Permitted to Place Legs onto Council Land and Footpaths Other Than Public Highways
Contact our waste disposal specialists
in Greater Manchester today to learn more about our commitment to recycling