SKIP HIRE MANCHESTER
REGISTERED WASTE CARRIERS
Skip Co Mcr are an established, family run business who provide a complete disposal solution for both domestic and commercial applications. Skip Co Manchester provide skips sized between 2 – 12 yards which are operated by our friendly and experienced team.
Covering all of Greater Manchester & surrounding areas Skip Co Manchester are always on hand for your rubbish disposal needs at very competitive prices.
Skip Hire in Manchester
Thank you for taking a few moments to visit our website. Skip Co Mcr is a 100% family owned business, long established with over 30 years experience offering a fully accredited friendly and professional service to all our customers in Manchester and the North West. Skip Co Mcr have evolved to become one the key players in the operated plant hire market throughout the North West. If you can't find what you are looking for please feel free to contact one of our team whom will endeavour to meet your needs.
We recognise that the area around your home is important to you and will therefore deliver your skip to the most convenient location. If we're unable to drop within the grounds of your property, we will endeavour to leave at the nearest position on the road adjacent to your property. If this is the case, then your Skip will require a permit, lighting and signage but don't worry, Skip Co Mcr will take care of all of this. Simply let us know if the Skip won't be able to be left on your private land.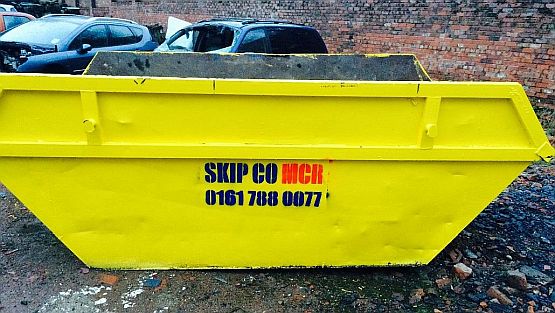 Skips for Hire
With a wide array of skips available, our skip hire services are suitable for all your needs, from household waste removal to construction site clearances.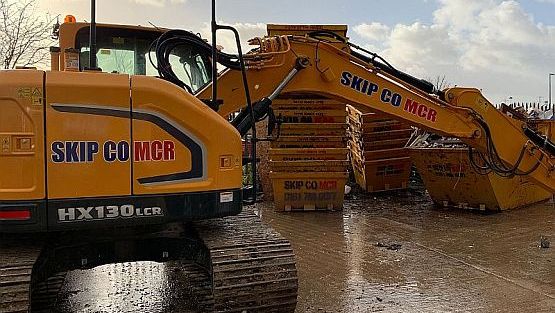 Recycling
As a registered waste carrier, we take our responsibilities very seriously, which is why we are committed to recycling as much waste as possible.
Skip Hire in Manchester
We cater for both domestic and commercial users and have extensive knowledge within the waste disposal field.
Our dedicated staff are just one phone call away to assist you in hiring your skip and will walk you through the process ensuring your experience is a satisfying one. So from getting your skip delivered to helping arrange any permits you may require from your local council Skip Co Mcr will help you.
About Us
Skip Co MCR is a registered waste carrier, providing comprehensive skip hire and waste removal services throughout Greater Manchester.
Catering to all your needs, our family-run business has over 30 years' experience in the industry. As environmental permit holders, we are dedicated to responsible and eco-friendly waste disposal, recycling most of the waste we collect.
Why Choose Skip Co Manchester
If you live in Manchester or the surrounding areas and need to clear out rubbish from your garage, building waste from a home improvement project, or just a good old house clearance, use Skip Co Manchester to help you all the way.
Supplying skip hire in Manchester at affordable prices throughout Greater Manchester from Salford, Trafford, Stockport, Sale up to Bolton we are the North West's premier skip company.
Getting rid of waste should be easy. The best to do this, the way to have the most control, is to hire a skip. No need to put your car seats down and damage or dirty your ride, just chuck it in a skip and we at Skip Co Manchester will do the rest. Sorting all the contents of the skip to make sure as much as possible is recycled.
However, if you have never booked a skip before it can be daunting so let us explains how it all works! What size skip do you need? We can help with most questions, but this is the toughest for us to give solid advice on. The best way is to use our skip hire in Manchester guide page. It has descriptions of the sizes of the skip and puts them into the relative content space to bin bags. Please note that your waste does not need to be in bin bags, it is just good to give an indication as to how much each size skip can fit in.
So, you have figured out what skip size you need, now where do you want it to be put. The cheapest option is always going to be to put it in on private land such as a drive. Check the dimensions of your drive and make sure that your chosen skip can fit. If it cannot then we will need to apply to get you a permit so it can be placed on the public highway. Please note this is at an extra cost to you and we can only supply permits for 8yd's and above.
What can you/can't you put in a skip? Check out our Terms and Conditions which has a list of items that we can't dispose of.
Once booked and paid for we will deliver your skip on your chosen day between 8am – 4pm. You get 7 days to fill it up and we will then collect it and sort through it.
Stop putting it off and get your skip booked today with our online system or ring on 0161 788 0077 or why not check out our new gallery of work, or feel free to review us on google.
Scrap Metal Collection in Manchester
Skip Co MCR can organise the regular delivery and removal of skips or containers. For free Scrap Metal Collection in Manchester, we work with a multitude of different manufacturers and other industrial businesses, to help you to dispose of your scrap metal quickly, efficiently and legally. Our scrap metal disposal service will save you time and help you to meet your environmental obligations. Simply order your skip or container, fill it up and we'll do the rest.
Contact Us Today For Skip Hire In Manchester
With a fleet of different sized vehicles and skip hire options, we have the capability and experience to complete any job. What's more, with us, you can rest assured that your skip hire contents have been recycled and disposed of responsibly and effectively. For more information on any of our plant and skip hire services in Manchester please do not hesitate to contact our friendly and dedicated team. View our other services here.